Team Associated Apex 2 Hoonitruck Light Kit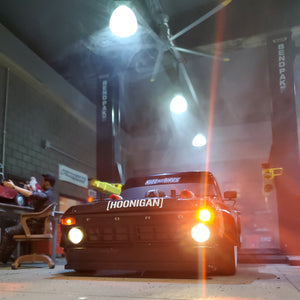 Team Associated Apex 2 Hoonitruck Light Kit
 This is well suited for your Hoonitruck; Vintage Headlights look perfect on the F150 body. The HB-1 is the featured controller in this kit and has been through a couple upgrades over the years. The core design is totally unchanged and has received raving reviews from customers. 
So join the worldwide family of happy MyTrickRC customers that use the HB-1!
Features:
HB-1 Controller, Headlights, Quad Orange/Red Scale Running and Tail Lights. This system is designed to be powered directly off the Receiver, or off a 9V Battery. Extremely bright, robust, and easy to install. 
Team Associated Apex 2 Hoonitruck Kit Includes:
1pcs 5 Dual Vintage Halogen Headlights
1pcs HB-1 Lighting Controller
1pcs Quad Orange/ Red 3mm LEDs
9V battery Adapter 

Mounting Hardware
HB-1 Controller
1pc Headlights
Tail/Running
$6995

$69.95
SKU:
MYK-HONT
---
---
<>
---