Axial Early Bronco Light Kit HB-2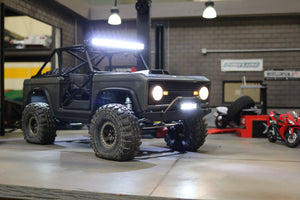 Axial Early Bronco Light Kit
Axial Early Bronco Light Kit!  This kit includes the NEW Attack Halogen High Power adjustable brightness Headlights, Front Marker Lights and Tail Lights. The kit is fully expandable, with the ability to add Rock Lights and more light bars.  

The Axial Early Bronco Light Kit has some great features including Adjustable Brightness on multiple ports Headlights, Light Bars and LEDs. This is great for power management, simply Plug and Play Installation, and it was built specifically to fit your truck.
Minor modifications to the body (Windshield) are required for installation. 
NOTE:
Installation Video shows a DG-1 Dragon Controller, however this kit now comes with an HB-2 Controller instead.  Simply plug Headlights into HB-2 Port D, Light Bars & Rock Lights into ports E and F.  3mm and 5mm LEDs plug into ports A, B, or C.  The HB-2 doesn't have any remote functions.   
Includes:
HB-2 LED Light Controller
1pc Attack  6" Light Bar
1pc Attack  2" Light Bar
1pc Attack  Halogen High Power Headlights
1pc 5mm Dual Red Tail Lights
1pc 5mm Dual Amber Front Marker Lights
1pc 3D printed LED mounts


Halogen Headlights
6" and 2" Light Bars
Tail/Brake Lights
Expandable
MyTrickRC Stickers
$8295

$82.95
SKU:
MYK-AX17HB
---
---
---