Axial Jeep XJ Attack Light Kit HB-2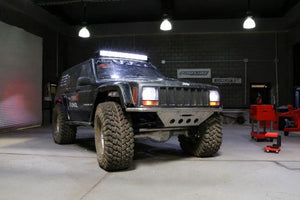 Axial Jeep XJ Attack Light Kit
The perfect complement to your Axial Jeep XJ is the ability to go at Anytime - Day or Night!
The Axial Jeep XJ Attack Light Kit is a Clean and Simple Way to get an Awesome Scale Look on your Axial XJ.  You'll be impressed how much the Axial XJ Attack Light Kit adds to the Jeep XJ stock body.  Folks who have seen it love the look of the super bright Attack Headlights, not to mention the Scale Running Lights. Yes, that's how Insanely Awesome the Axial Jeep XJ Light Kit is!
Also, with the HB-2 Controller, you can also easily add more lights if you want. This might include Side Markers, Additional Canisters that came with the Truck, Dust Light, Halogen Lights for the Stock Light Canisters, or even a couple sets of Spot Lights to use as Rock Lights (Rock Lights power directly off the Receiver). The kit comes standard with our HB-2 Light Controller; a sleek, easy to setup, and simple to use light controller featuring 6 individual output ports 3 standard power, 1 mid power, and 2 High power. This port configuration gives you the ability to create various combinations of 3 and 5mm LEDs, Rock Lights, etc. in various colors!
Features:
Super Bright Attack 19mm Rectangular Headlight
3D Printed Tail Light Buckets
ON/OFF Switch
Expandable System = Easily add MyTrickRC Spot Lights (as Rock Lights) or Light Bar
HB-2 Lighting Controller
High Quality Components
Kit Includes:
1pc HB-2 Lighting Controller
1pc 5" Attack Light Bar
1pc Dual 

Attack 19mm Rectangular Headlights

1pc Quad 3mm ORANGE, RED Running Lights
1pc 3mm Dual WHITE Reverse Lights
1pc 3D Printed Tail Light Buckets
MyTrickRC Scale Bumper Stickers
Zip Ties and Zip Tie Mounts for clean wiring management
NOTE - Light Bucket Installation requires scraping off paint under the tail light stickers. Be careful to make sure that you scrape per the sticker location. Lines molded on the body may not match the tail light stickers location so start by scraping a small dot, then verify its position by shining light through the area scraped.
Scale Light System
HB-2 Controller
Attack 19mm Rectangular Headlights
Easily Add More Lights
Tail, Brake
$8495

$84.95
SKU:
MYK-AX16HB
---
---
---