Drift-X Controller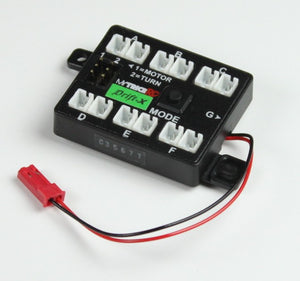 Drift-X Controller
Inspired and Proven by the Los Angeles RC Drift Scene, MyTrickRC's Drift-X Controller builds on our successful UF-7 Controller line by adding sweet features designed specifically for Drift Cars!
With 9 Blink Patterns for Scale Drift Cars to Scale Street Cars, including wild RC Drift Patterns like Crossfire, Alien, and Wig Wag, the Drift-X Controller offers tons of Lighting Configuration Options!
The Drift-X Controller features our finely tuned Throttle Response Backfire which flashes a super-realistic Scale Backfire when you let off the Throttle. And most Blink Modes have Automatic Hazard Lights where all appropriate LEDs start to blink in a Hazard Light fashion 30 seconds after your car stops - also great for Scale Emergency Vehicles which just arrived as First Responders!
For Scale Street Cars, the Drift-X Controller offers Two Versions of Turn Signal: normally OFF/blink ON when turning OR normally DIM/blink BRIGHT when turning.
You can even use a 3rd Channel to Control your Drift Patterns!
And since the Drift-X Controller shares the same Rock Solid Electronics as the latest and greatest generation of our tried and true UF-7 Controller product line, it has the same Plug & Play Design, and Simple Operation which has made MyTrickRC the obvious choice for RC Enthusiasts across the RC Hobby. The Original UF-7 Electronics were already Tough and Reliable by design since we don't cut corners on materials or components. For this new generation, we've made improvements such as making the Controller Waterproof, upgrading all connectors to be Gold Plated to further enhance long term contact performance, and increasing the Pigtail output to support up to 2 Amps of current!
The Drift-X Controller includes:
1pc Drift-X Controller
1pc Servo Y-Cable
1pc 9V Battery Adapter
Mounting Hardware
NOTES
The Power Ratings for the Drift-X Controller are: 4.5-12VDC, 2 Amps MAX.
Drift-X Controller's Pigtail Output passes Receiver Power straight through it. Therefore the voltage on the Pigtail Output will be the same as your Receiver. CAUTION - Do Not draw more power off your receiver than it's rated for.
Drift-X Controller's Port E (Headlights Port) can be used to power Headlights and/or Running Lights. Port E stays ON STEADY in all Land Vehicle MODEs.
Each port on the Drift-X Controller can power LOTs of LEDs, but the more LEDs you add to one port, the dimmer all of them will become. We recommend trying not to exceed 4 LEDs per Drift-X Controller LED Output.
A Higher Input Voltage on the Drift-X will make all of your LEDs slightly Brighter, However it's better for the Controller if you don't exceed 9VDC.
MyTrickRC sells LED Splitter Cables which allow you to add more LEDs to a port. However, you can't mix all LED colors together on one LED Splitter. Please see our NOTEs about this on the individual LED Splitter Product Pages. You can find LED Splitters here: https://mytrickrc.myshopify.com/collections/cables
* The NEW Blink features we mentioned are only in certain MODEs
** The Drift-X Controller Can Power:
1pc Attack 5" or 6" Light Bar, or Light Bar from Other Manufacturer
OR 1 pair of
Attack 17mm Round Wafer Headlights
Attack 19mm Rectangular Wafer Headlights
Attack Halo Headlights
NEW Attack 7-LED Wafer Strip Light
OR
4 pairs of Attack Spot Lights, original Attack Headlights, Attack Rock Lights, or Attack 9mm Wafer Lights
Specialized for RC Drift
Scale Backfire
Automatic Hazard Lights
Exotic Blink Patterns
Two Turn Signal Styles
$6795

$67.95
SKU:
MYK-RDX
---
---
---