Flasher Bar Utility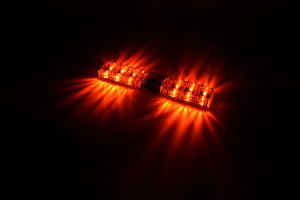 Utility Flasher Bar 
NOW with automatic Arrow and Cargo Lights the newly added functions set this Emergency Flasher apart from others.
This high tech flasher has motion sensors that automatically detect when the vehicle is sitting still. After 20sec of inactivity, the Arrow and Cargo Lights will Automatically turn On. Right and Left Arrow Directions available. Or if you don't want the Arrow or Cargo Lights to turn on, you can turn them Off. With a simple button press, the Arrow will just never turn on. Press again to turn Arrow back On.
Very popular on Tow Trucks, and Other Utility Vehicles the Utility Flasher Bar is a Multi-Pattern Emergency Flasher Bar with Super Bright LEDs, and Ultra-Scale Appearance.  The Molded Lens Cover has Reflector Features for each LED which add to the scale realism of this flasher.  The Utility Flasher Bar really is the best looking Utility Flasher on the market, and it's High Quality Materials means it's Built to Last.   The Smart Plug and Play Design of the Utility Flasher Bar means it can be powered off the UF-7, Car Receiver, or 9V Battery.    Changing MODEs is as simple as tapping the integrated MODE Button, the Light Bar will Remember your Last Setting.  This Light Bar is Smart, Simple to Use and Install, and Looks Great.  This is such a cool accessory you wont want to ever get rid of it.
Features of the Utility Flasher Bar
Motion Triggered Arrow Feature
Strikingly Bright LEDs
Low-Power Usage
Powered by RC vehicle or by 9V Battery
Extremely Durable
Water Resistant
Easy to Install
Scale Styling
1/10th Scale
Designed in the U.S.
*This is the Utility Flasher Bar Only, Car  Body or other Lights Not Included
$6395

$63.95
SKU:
MYK-FB3
---
---
---