Police Deluxe Light Kit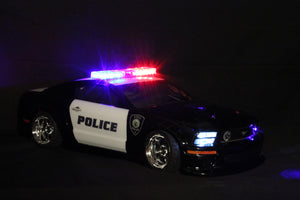 Police Deluxe Light Kit
Amp up your next Police Vehicle Project with our NEWLY upgraded Police Deluxe Light Kit. 
We've added more detailed MODEs for Emergency Vehicles, offering more Strobe Configuration Options.  Not only did we Upgrade the UF-7 MODEs, but we also added MODEs and more LEDs to the Police Flasher.   This System is all about giving you More Options to Build the Way You Want.  The Police Deluxe Light Kit is also Plug and Play, so Installation is easier than ever! 
And Don't forget the High Quality Sticker Set that comes with the Kit.  MyTrickRC gives you an entire set of Beautifully Detailed Scale Door Badges and Enforcement Insignia to choose from.  At MyTrickRC we have worked to Simplify the Police Deluxe Light Kit so it Comes Out as Awesome as Possible!  And don't forget the Super Bright LEDs, No One is going to miss this Police Car Coming!
Police Deluxe Light Kit Includes:
1pcs 5mm Dual WHITE Headlight LEDs
1pcs 3mm Dual RED Tail-Brake LEDs
2pcs 3mm Single RED Strobes
2pcs 3mm Single BLUE Strobes
UF-7C Universal Light Controller
Power Cables to power off your car's battery, or 9V battery
Mounting Hardware
Also Includes Roof Flasher Bar:
1/10 Scale Light Bar with 7  different Scale Blink Patterns
Powers off Receiver, or 9V battery
Mounting Hardware
Also Includes Police Sticker Set:
Scale Police & Sheriff Door, Trunk, and Roof Stickers
**Remotely Control your flashers ON/OFF function from your transmitter (transmitter with 3rd channel required)
Police Body Kit
Roof Flasher Bar
Scale Stickers
Remote On/Off
Red/Blue Strobes
$11895

$118.95
SKU:
MYK-EM2
---
---
---