Traxxas TRX4 Bronco Light Kit HB-2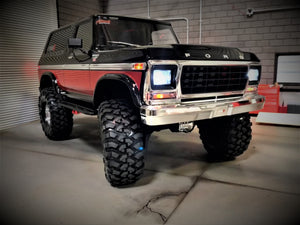 Traxxas TRX4 Bronco Light Kit HB-2
Trick Out your Traxxas TRX4 Bronco with a MyTrickRC Light Kit! This Kit includes our well known Attack High Power Headlights as well as Tail Lights and plenty of Marker Lights. The result is an authentic Scale looking vehicle.
At the heart of this Kit is our HB-2 Lighting Controller which features 6 individual Output Ports (2 High Power, 1 Headlight, and 3 Standard Low Power). These give you plenty of freedom to Expand - easily add one of our super bright Light Bars or Rock Lights or Spot Lights!
Installation is simple Plug and Play - no soldering required. Note that minor modifications to the Body are required for installation.
TRX4 Bronco Light Kit Includes:
1 Pair of Attack High Power Headlights
1pc 5mm Dual Red Tail Lights
1pc 3mm Dual Orange Front Marker Lights
1pc 3mm Quad Red/Orange Rear/Front Side Marker Lights
1set LED Mounts
HB-2 Lighting Controller
NOTE - for Traxxas Battery users
A Traxxas Battery Adapter (sku MYK-RTX) is required with this kit if you plan to use a Traxxas Battery on your vehicle.
OPTIONAL - Rock Light available are for this vehicle:
High Power Headlights
Tail Lights
Front Marker Lights
Side Marker Lights
HB-2 Controller
$7795

$77.95
SKU:
MYK-TB3HB
---
---
---