TRX4 Defender Kit with 5" Light Bar HB-2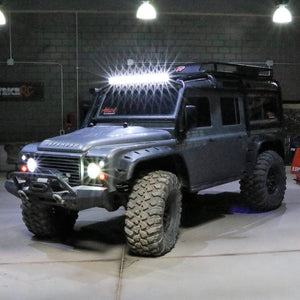 Trick Out your Traxxas TRX4 Defender with a MyTrickRC Light Kit!
Our TRX4 Defender Light Kit HB-2 starts with a 5" Light Bar complemented by Attack High Power Headlights for Insane Brightness! To this add Front Running Lights and Tail Lights and you've got an awesome Scale vehicle!
This easy to install Kit features the HB-2 Lighting Controller. The TRX4 Defender HB-2 Kit with 5" Light Bar is fully Plug and Play so Installation is Easy and Fun.
It's also Super Easy to add Rock Lights (SKU:  MYK-TDR) to the TRX4 Defender HB-2 Kit with 5" Light Bar. Add Four or Eight Rock Lights, and it takes this truck to the Next Level of Insane Light Output. This is a Huge Benefit on the trail when you need lots of light for safe hiking. You can Really Light Up the Trail with some Rock Lights. MyTrickRC Rock Lights are Plug and Play with the TRX4 Defender HB-2 Kit with 5" Light Bar.
TRX4 Defender Light Kit HB-2 Features:
Scale Lighting System including 5" Light Bar, High Power Headlights, Rear Tail Lights, Front Running Lights 
Custom Headlight Reflectors provide a Scale look, and this system uses existing stock screws for simple mounting 
Sleek looking LED Headlights and Curved Light Bars 
5" Attack Light Bar mounts to stock roll cage. Installation is super easy and does not require any cutting or mods to stock parts
Lighting Harness with Circuit Board Light Clusters has minimal wiring so installation is quick and easy
Expandable System - Adding High Power Light Bars, Spot Lights, or Rock Lights is Plug-and-Play
HB-2 Lighting Controller is Quality Scale Lighting
Ultra Bright LEDs, MyTrickRC does not compromise on component quality
Impact Resistant Light Bar Design can take a beating
TRX4 Defender Light Kit HB-2 Includes:
LIGHT BAR
1pc 5" Attack Light Bar with Mounts
BODY LIGHT SYSTEM
1pc Lighting Harness with

1 Pair of Headlight Clusters including High Power Headlights, White and Orange Running Lights
1 Pair of Tail Light Clusters including Tail Lights

1set Custom Headlight Reflectors and Retaining Brackets
1pc HB-2 Light Controller
Zip Ties and Zip Tie Mounts for clean wiring management
Attack Scale Bumper Stickers
NOTE - for Traxxas Battery users
A Traxxas Battery Adapter (sku MYK-RTX) is required with this kit if you plan to use a Traxxas Battery on your vehicle.
OPTIONAL - Rock Light available are for this vehicle:
Ultra Bright
5" Light Bar
Scale Headlights
Scale Tail Lights
HB-2 Controller
$9195

$91.95
SKU:
MYK-TD5HB
---
---
---