Utility Deluxe Light Kit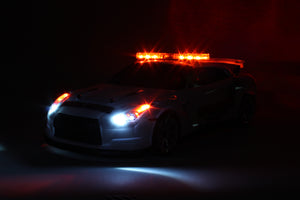 Utility Deluxe Light Kit
The Utility Deluxe Light Kit is the perfect kit for those wanting to build a Super Scale Tow Truck, Pace Car, or other Utility Vehicle.
The Utility Deluxe Light Kit includes Headlights, Front Orange Strobes, Tail/Brake Lights, and Rear Strobes on the body. On the Roof is MyTrickRC's Multi-MODE Utility Flasher. With More Super Bright LEDs and More Blink Pattern Options, the Roof Flasher takes it to the Next Level. The Light Bar looks Super Scale, ON or OFF. The Utility Deluxe Light Kit uses the UF-7C Controller at it's heart, and includes Remote ON/OFF Switching of all Strobes and Roof Flasher! This Kit also features Functioning Tail/Brake Lights. This System is fully Plug and Play, so Installation is Easier than Ever!
And, the Utility Deluxe Light Kit uses MyTrickRC's Super Bright LEDs, and is so Brightly Lit that everyone who see's it cant help but notice it. MyTrickRC's focus on Quality, Dependability, Simplicity, and Cool Features shows with Utility Deluxe Light Kit. Join the thousands of other Happy MyTrickRC Customers, and see how awesome your Emergency Vehicle Lighting can be.
Utility Deluxe Light Kit Includes:
1pc 5mm Dual WHITE Headlights
1pc 3mm  Dual RED Tail-Brake Lights
2pc 3mm Single RED Body Strobes
1pc 3mm Single ORANGE Body Strobes
1pc UF-7 Universal Light Controller
Power Cables for Receiver, or 9V battery
Mounting Hardware
Also Includes Overhaul Utility Flasher Bar
1/10 Super Scale Multi-Mode Flasher Bar
Power Cables to power off the UF-7 controller, or 9V battery
Mounting Hardware
Utility Body Kit
Roof Flasher Bar
Scale Sticker Set
Remote Strobe Control
UF-7C Controller
$11995

$119.95
SKU:
MYK-EM8
---
---
---